How The Fonz Gave Me The Right Jukebox Kick
By Steve Lang on December 13, 2017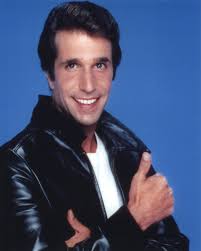 By the way, did you know that Arthur Fonzarelli changed my life?
True story. I was at a get together for the Atlanta Jewish Federation way back in 1996 where he had his hundreds of admirers, and I had, well, perhaps one kinda distant friend who tagged along for a few minutes, and then found a table full of free fruit punch.
The eyes of a legend eventually came to this skinny, gawkish Jersey kid who had been a numbers cruncher on some God forsaken street that was far from Wall Street.
He asked my name and then peered straight at my receding hairline, "What do you do for a living?"
"I'm a financial analyst."
He shook his head and sighed, "You know what? I can never imagine myself ever doing that for a living,"
"You know what Mr. Winkler… neither can I."
"Well… what do you want to do?"
"I want to be an auctioneer."
"A Jewish auctioneer in Georgia? Now that's interesting!"
20 years later, I'm reminded by the words that followed. "Steve, if you will it, it is not a dream."
I have seen many distant friends who were interns and assistants back then become scions and successes. Even if they aren't fully aware of their achievements, they have made this world a better place, I also vaguely recall this evening that I have only known many of you through mere words. I regret that. Life's too short.
So Happy Hannukah, and please, keep up your dream! Next time one of you wants to go have lunch at a nearby Waffle House here in Georgia, I'll show you how to use Yiddish cuss words in an auction chant.
NOTE: I wrote this on my Facebook page and given the feedback, I figured it was too good not to share here too. All the best.
Facebook